Experiencing the Tropical Paradise: A Stay at Kendwa Rocks Hotel
If you're seeking a slice of paradise, look no further than Kendwa Rocks Hotel in Zanzibar. Nestled on the pristine Kendwa Beach, this hotel offers an unforgettable experience that blends relaxation, adventure, and cultural discovery. Here's what you can expect from a stay at Kendwa Rocks.
Book a Hotel at Kendwa Rocks
Accommodation: Comfort Meets Authenticity
Kendwa Rocks offers a variety of accommodation options to suit every budget and preference, from affordable garden rooms to luxurious beachfront suites. All rooms are designed with an authentic African flair, featuring locally sourced materials and traditional Swahili architecture. Regardless of your choice, you'll enjoy stunning views, either of the lush gardens or the mesmerizing Indian Ocean.
Dining: A Culinary Journey
The dining experience at Kendwa Rocks is nothing short of a culinary journey. The hotel's restaurant serves a fusion of local and international dishes, with a special emphasis on fresh seafood caught right off the Zanzibar coast. Whether you're indulging in a hearty breakfast, enjoying a beachfront lunch, or savoring a romantic dinner under the stars, your taste buds are in for a treat.
Activities: Adventure and Relaxation
One of the highlights of staying at Kendwa Rocks is the array of activities on offer. You can spend your days soaking up the sun on the white sandy beach, swimming in the crystal-clear waters, or taking part in water sports such as snorkeling and diving. The hotel is also known for its vibrant nightlife, including the famous Full Moon Party held every month. This event features live music, dance performances, and fire shows, offering a unique chance to immerse yourself in the local culture.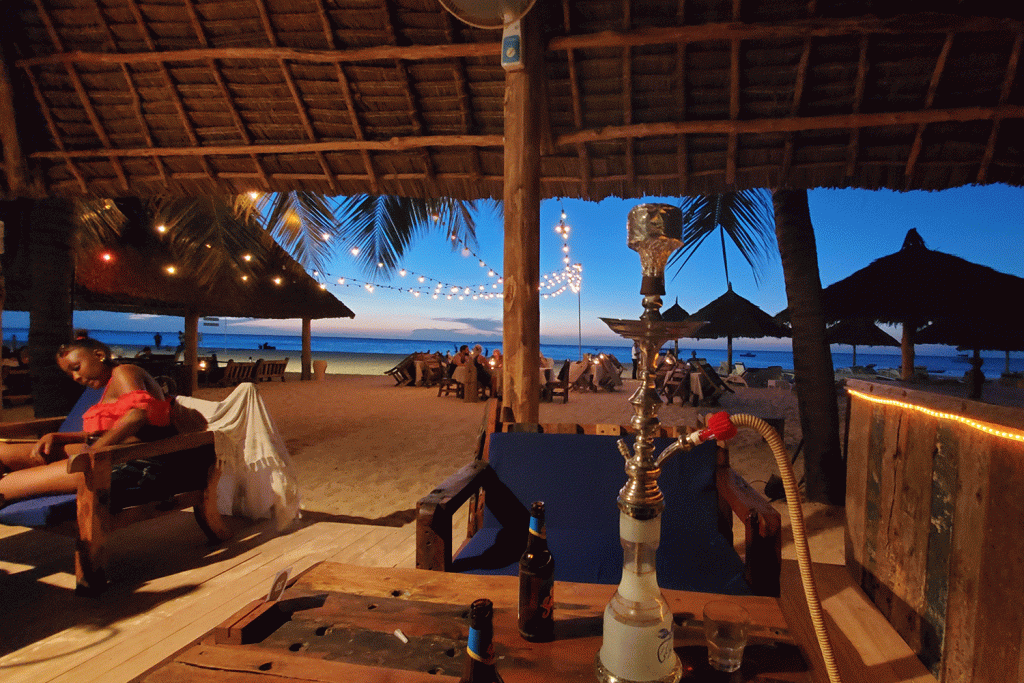 Service: Warm and Welcoming
What sets Kendwa Rocks apart is its warm and welcoming service. The staff goes above and beyond to ensure guests have a memorable stay, offering personalized assistance, arranging excursions, and sharing insights about the local culture and attractions.
Zanzibar's Full Moon Party: A Night to Remember
Every month, as the full moon paints the night sky with its radiant glow, a unique celebration unfolds on the sandy shores of Zanzibar. Known as the Full Moon Party, this event has become a highlight for locals and travelers alike, bringing together music, dance, and community under the starlit African sky.
The Setting: Kendwa Rocks
The Full Moon Party takes place at Kendwa Rocks, a beach hotel located on the northern tip of Zanzibar Island. With its pristine white sand beaches and crystal-clear waters, Kendwa offers a stunning backdrop for this monthly extravaganza.
The Party: Music, Dance, and More
The Full Moon Party is a vibrant showcase of East African culture and international influences. The event features live performances from renowned artists, with music styles ranging from traditional Taarab and Bongo Flava to Reggae and Electronic Dance Music. As the music fills the air, attendees are invited to dance barefoot on the beach, making for an unforgettable experience. Fire shows and acrobatic performances add to the spectacle, creating a mesmerizing atmosphere that lasts until the early hours of the morning.
The Crowd: A Global Gathering
What makes the Full Moon Party truly special is its diverse crowd. The event draws in people from all corners of the globe, creating a melting pot of cultures. Whether you're a solo traveler, part of a group, or a local resident, the welcoming vibe of the Full Moon Party makes everyone feel at home.
The Experience: More Than Just a Party
While the Full Moon Party is undoubtedly a celebration, it's also an opportunity to connect with others and experience the magic of Zanzibar. It's a chance to immerse yourself in the island's rhythms, taste local delicacies, and create memories that will last a lifetime.
Conclusion
A stay at Kendwa Rocks hotel is more than just a vacation – it's an experience that encapsulates the beauty, culture, and spirit of Zanzibar. With its idyllic setting, comfortable accommodations, delicious food, diverse activities, and exceptional service, Kendwa Rocks offers a perfect blend of relaxation and adventure that leaves visitors longing to return. In a world where electronic music festivals have become somewhat standardized,
Zanzibar's Full Moon Party
stands out for its unique blend of cultural authenticity and global influences. It's more than just a party – it's a celebration of life, music, and community that leaves a lasting impression on all who attend. So if you find yourself in Zanzibar during a full moon, don't miss the chance to dance the night away at Kendwa Rocks. It's an experience you won't soon forget!