Cartagena Nightlife Everything you need to Know
Cartagena Colombia is one of my most favorite cities in the world. My first time there I didn't know what to expect. Over 10 Trips later I feel like I kind of know the place. Today we are going to talk about Cartagena Nightlife. The Best Night clubs, Rooftop Bars, The Beach Clubs, and so much more. One of the first things I think I should let your know is  Cartagena is the Most expensive city in Colombia. So you can expect to Bring some extra money. A lot of the Locals reference the city as a Little Miami and I definitely can understand why. Cartagena is a beautiful place with a lot of culture and History. It's important that you remember that you are in Colombia and Things can definitely happen so remember to humble yourself and don't get too carried away when partying.
Cartagena Nightlife Experience
Cartagena has one of the Best Party scenes in Colombia. It has the Tallest Bar in Colombia along with another that has been famously rated as one of the Best Bars in the World. You can party with both locals and Tourists.
The Best Bars in Cartagena Colombia
51 Sky Bar is the Tallest Bar in Colombia. It sits on the 51st floor of the Estelar Hotel located in Barrio Bocagrande. Here you can witness the Best Views in all of Colombia. It has a panoramic 360-degree view so you can see the entire city and the Sea. I'm all about a nice view, so you know it had to be put high on the list of The Best Bars in Cartagena. You can expect a Live Dj to get the party going and people dancing. You have both outdoor and indoor seating so if the Cartagena weather is too hot for you, there is a place where you can chill out. They have impressive drinks and a food menu if you want to get something to eat also. If you want to visit a place with great vibes then I highly recommend you check out 51 Sky Bar. On Google, they have over 800+ Reviews and a 4+/5 Star Rating.
Alquimico is one of the most famous Bars in Cartagena Colombia. It has been rated as the Best Bar in South America and #10 out of 50 of the best Bars in the World. I think it's a really impressive Title to have on your resume. Located in the Historic Old City of Cartagena also known as the "walled city", it's surrounded by all the Nightlife in Cartagena. You might want to get there early because there is always a line out the door. This place is 3 stories with something unique on each floor. You can expect creative drinks and a Full food menu and as the bar states on their website that they support the local economy by using Local Products. If you want to experience an upscale Bar while visiting Colombia then you definitely need to check them out. On Google, they have over 3500 reviews and a 4.5+/5 Star Rating.
Cafe del Mar is a rooftop bar with one of the Dopest vibes I have experienced. Sitting on top of the Wall in the Old City you get a nice sea breeze coming at you. As the name suggests they specialize in serving fresh seafood, and amazing drinkss. One thing that you should know is that it's always packed and you might want to book a reservation especially if you plan on going with someone or a group. Depending on the time you get there you can catch a live musician setting the tone making this destination a place you will always remember. If you are lucky enough to catch the sunset there, you will not be disappointed.  I highly recommend visiting Cafe Del Mar. They have over 18,000 Reviews and a 4.5+/5 Rating on google maps.
I first found out about this place because I was looking for a fancy breakfast one day. Inside this place looks pronominal. Later on, Realizing that they have one of the Best Rooftop Bars in Cartagena sitting just in front of the Clock tower also called Torre del Reloj or Boca del Puente which is the Old City main entrance. You get an incredible view and a nice breeze at night making it one of my favorite places to visit. You can expect awesome and creative drinks served by some of the most skilled bartenders in the city. You can also expect some delicious food and makes a great place to bring a date. They have over 3000+ Reviews and a 4.5+/5 Rating on google maps. 
Being one of the Most Famous Salsa Bars in Cartagena you already know what to expect. This place has live salsa bands setting the mood and a night full of dancing in your future. It has an authentic atmosphere and an always packed crowd. If you are looking for a night of dancing and Cuba-style food and drinks then you have found the place with vibes you are looking for.  On Google, they have over 5500+ Reviews and a 4.3+/5 start Rating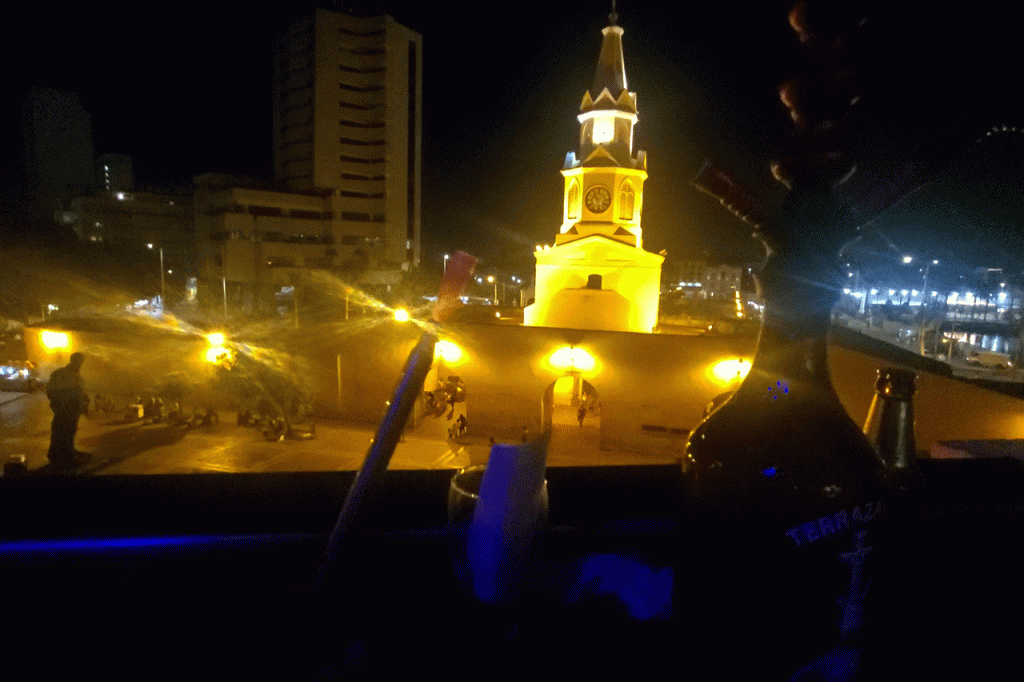 The Best Hookah Lounges in Cartagena
So The hookah lounges in Cartagena are expensive for some reason. I will say out of the other places I have been this place is actually cheaper. Here Hookah cost about 150,000 pesos which is about 30 dollars. It also has a great rooftop view of the Clocktower Square. This place is definitely one of my favorite places to go but for some reason, it has unflattering Reviews on Google. Most of them speak about the prices. This place currently has under 100 Reviews and a 2.5/5-star rating.
The Best Night Clubs in Cartagena
If you want a real Colombian Night Club experience then Taboo Disco Club is where you should be heading. You can expect a lively crowd. Mostly with other Colombian Tourists coming from different cities and wanting to party also. Not a lot of Gringos in this place. The prices are fair for Cartagena, especially being in a tourist area but they are still not exactly what I would call cheap, but definitely cheaper than some other nightclubs I have been to there. They are located in the Barrio Getsemani that's right next to the walled city. On Google Maps they have over 2000+ Reviews and a 4+/5 Star Rating.
One of the most popular places for American tourists that want to listen to HipHop Music. You will find both American Men and Women here mixed in with a lot of Colombian Women also. The DJ plays some of the latest American Hip-hop and has a Nice playlist. The drinks and Hookah are overpriced in my opinion, for instance, a hookah cost 250,000 pesos. If you do the currency exchange it would be the equivalent of $55 dollars today. 1 drink cost 28,000 pesos. if you do the exchange that's $6.20 cents. So expect to spend a lot of money. The Bar is always packed, so it's better to just get a section and a bottle of your favorite drink, if you are actually planning to spend some time there. The place gets really packed and it can be a tight squeeze. Still, I'm sure anyone that goes there will have a great time. This place has over 600+ reviews and a 4+/5 Star Rating on Google Maps.
Things you Need to take to Cartagena
In Cartagena Colombia, things can happen. Travel Insurance should be purchased the minute you pay for your flight and accommodations. Travel insurance can help cover your medical bills if you get sick or injured in most cases. It can help cover a portion of the cost of your phone if it gets pickpocketed or snatched. It's something that you should definitely be prepared for.  You always want to protect yourself against delays and flight cancelations. I highly recommend getting travel insurance if you are planning to visit Cartagena. Find out more about Travel Insurance
Cartagena gets very hot. The sun is no joke there. It was the first place I ever remember being sunburnt. I highly recommend you bring some sunscreen Protector on your Trip to Cartagena Colombia.
I definitely recommend bringing some insect repellant because Yellow fever is passed through mosquitos, so you will want to have all the protection that you can get. I would rather have travel insurance and not need to use it if you know what I'm saying.
You will want to have a phone plan that will allow you to use your smartphone around Cartagena. Most people's cellphone provider will work in Cartagena but if you don't have the right company or plan you can expect to spend up to $10 a day on data. I also recommend you check out my list of Best Travel Apps so you have everything downloaded when you arrive.
Bring a Backup smartphone just in case your phone is pickpocketed, stolen, or lost. Things can get missing fast when you are in Colombia so you will want to make sure you have a backup phone. You will still want to be able to communicate if your phone disappears or it breaks.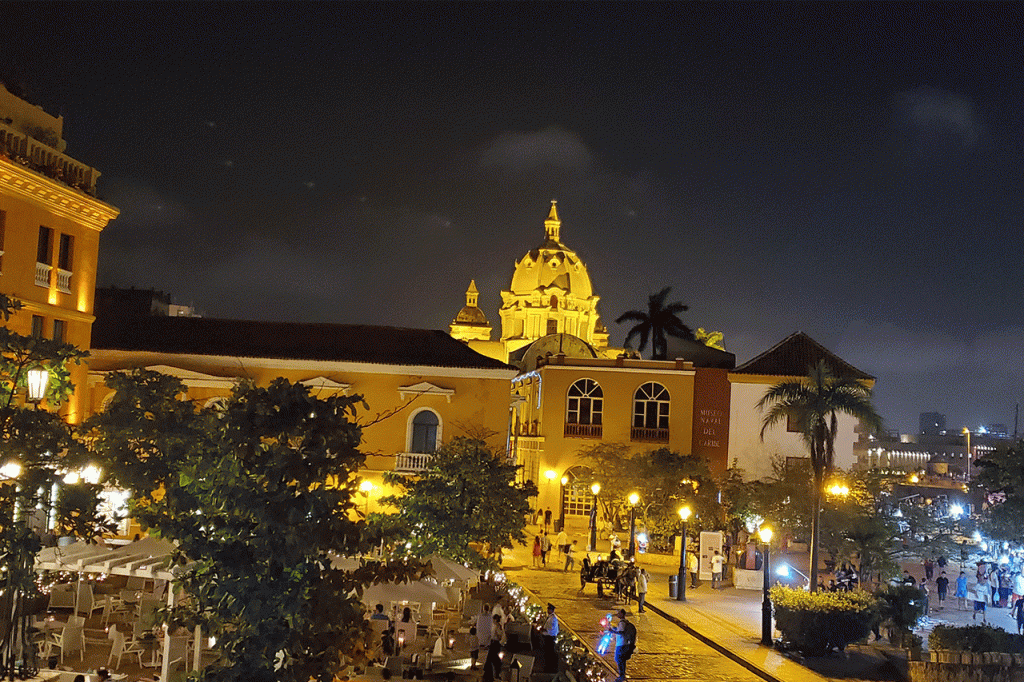 Does Cartagena Have Good Nightlife?
Yes, Cartagena is a great place to go and check out. You may want to spend up to 5 days in this city because the tourist zone is really not that big. Nightlife is good but not comparable to places like Medellin or Bogota where the nightlife is better.
Is Cartagena a Party Destination?
Honestly, I think of it as more of a getaway than a party place. Yes, you can surely have a great time but this place is not a party destination such as Thailand or Vegas, or Miami. I think more of a historical place with beautiful beaches but Cartagena Nightlife can definitely be fun.
Is it safe to walk around Cartagena at night?
If you are inside the wall city then I would typically say yes depending on the time but I have definitely heard of instances where people have been robbed and drugged there. I have personally witnessed someone getting their iPhone snatched out of their hands. You want to use extreme caution.
What to wear in Cartagena?
It gets extremely hot in Cartagena. Especially during the summertime. I recommend you take casual clothing and be prepared to sweat. There are beaches there so you can also take clothing that you would wear to the beach.
Is Nightlife better in Medellin or Cartagena?
Hands down the nightlife is better in Medellin. In Medellin, there is so much more that you can do there. It is also bigger and spread out. It would take me a long time to try and go to every place in Medellin.
Should I bring cash to Zanzibar?
I recommend that you bring cash to Zanzibar because you will have the hardest time finding an atm machine once you leave the airport.
Do They Accept Dollars in Colombia?
You should never be paying for anything in dollars. You will just be ripping yourself off. Always go to the ATM Machines at the banks. They may ask you about accepting a rate, that always hit decline because it is a terrible rate. Then it will disperse your Colombian pesos at the best-going rate of the day. Again I repeat never pay for anything in USA Dollars.
When is the best Time to Travel to Cartagena?
I always have a great time in December but maybe December – February when it's not too hot and not that much rain. May- November it rains more than a little bit.
How many days do I need in Cartagena?
I would say 3-5 days. In that amount of time, you should be able to see everything and spend a day or 2 relaxing. I recommend that you check out some Beach clubs and soak up some sun. Some people that are in groups usually rent a yacht and party.
What to expect when in Cartagena?
You can expect a lot of vendors trying to sell you stuff. Any service that someone does will want payment. It could be something as simple as someone offering to show you around. A massage on the beach even if they say it's a free sample will cost you. There are people that walk down the street with a speaker and start talking to you and will ask you where you from and what's your name. If you engage with them they will then perform a rap song and want payment at the end. If you don't want any one service just say Gracias. Even then that will not be enough. I have learned to just ignore people. You will encounter a lot of different types of people, it will definitely be overwhelming if you have never experienced this before.
Is Cartagena Safe for Tourists?
I will say for the most part yes. Most tourists never leave the tourist areas. There is a heavy police presence in the Wall City but I have witnessed fights and people getting their phones snatched. You can easily be pickpocketed. You should never wear jewelry to Cartagena. Your chain or Necklace will most likely get snatched. Don't Carry around a lot of money. Never throw money in the streets or in the club. Armed Robberies do happen in the Walled City and the other tourist areas day and night time.
Conclusion
Cartagena Colombia is one of my most favorite cities in the world. I personally just love the culture there. I think they have great-tasting food and I love being able to get on a boat and go to a beach club with the nice blue water. I think Cartagena nightlife is great, although it is not popping as much as other cities that I have been to. I love the music they listen to and hanging out with the locals. While things aren't necessarily cheap they are not as expensive as being in Miami. I recommend anyone wanting to go to Colombia should probably check out Cartagena first. I think it is a lot safer than other Colombian cities.
The Best Cartagena Videos