How to Make 4k Walking Videos
Walking tour Videos have become a very popular type of video on YouTube. They consist of someone holding a camera and walking around the streets, beaches, and Hiking trails. I actually have a YouTube Channel Called Passport Action where I have made some of these same types of videos.
Creating these types of videos can be created with little to no skills needed. Today I will show you how to create Walking tour Videos in 4k.
Items you need to Create 4k walking Videos
There are several different cameras that you can use including your Smart Phone. Your Camera or smartphone will need to be able to record in 4k Resolution at least 30 fps. You can film in 24 frames per second but I find that it will produce a choppy video of the people that are walking in your video.
You actually do not even need to record these videos in 4k. 1080p is very much acceptable because although most people's smartphones can record in 4k, the screens are not able to view videos in 4k. Most YouTube videos are watched on mobile devices so at this time it's not important to record 4k videos. Although I recommend it so that your videos are future-proofed.
The Best Cameras for 4k Walking Videos
Some of these cameras can make great 4k Walking tour footage straight out of the box. The DJI Osmo Pocket 2 and the GoPro 11 both record in 4k resolution. The GoPro 11 actually records in 5.7k. The DJI Osmo Pocket is a tiny gimbal with a camera attached so it makes the perfect camera for walking videos. The GoPro 11 has built-in stabilization and multiple camera lenses. Super wide, Wide, Linear, and narrow.
Something that also makes GoPro a good choice is that you will be able to go live on YouTube with this device. Walking tours in 4k Live is also a popular genre.
Camera Settings
You can definitely shoot your videos in auto mode but you may notice that some of your videos may be choppy or blurry in some parts.
I recommend using manual mode. But if you are using manual mode you will need additional accessories such as Neutral Density Filters if it is a bright and sunny day. Walking Videos shot in 4k 60 or 4k 30 will work great. You will want to set your shutter speed to double your Frame rate so that your footage isn't choppy. You will also want to set your White Balance so that it matches the conditions that you are filming. If you can adjust the aperature then I recommend setting it to f5.6-f8 during the day. This will make sure every that is important is in focus.
Camera Stabilizer
I own the DJI Ronin SC and the Original DJI Osmo. The Ronin SC is good for stabilizing footage from my Sony A7iii. You can also use it for smaller cameras. The Osmo 5 is a great device if you want to stabilize your phone.
A Gimbal is great for stabilizing your Camera so that your walking footage is not shaky.
Using your Equipment Correctly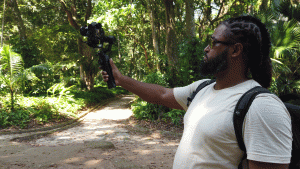 One of the important things about using the equipment is the way you walk and hold the equipment. Regardless if you are using a gimbal. If you are walking incorrectly or holding your gimbal the wrong way your footage will become bouncy and or blurry. The most important thing to remember is not to pan the Camera. Always try to walk in a straight line. When you pan the camera you will notice that you have motion blur. Although you can freeze the frame and take stills from the video, it just won't look good to the people that are watching your video.
How to use the Osmo Pocket 2 for Walking videos?
For the First setting, I recommend using the Tilt Lock mode. This keeps the Camera locked straight ahead with the option to pan left and right. The Follow mode would give you the option to point the camera at the ground or sky also so I guess it depends on the type of walking video you are making to select the right choice. The FPV will allow the camera to point in whatever direction you want. I don't recommend FPV mode for Walking videos.
An important component is that you hold the camera up high. If you are short you need it to be at least at your Chest Height. Do hold the camera near your pockets. That is extremely too low. Also if you are using the Osmo pocket you will want to hold it with your fingertips. Do not grip the camera like you are holding a baseball bat. This will make your video bounce up and down and your camera is only a 3 axes gimbal so it won't give you the results you desire.
Video Editing Software
I personally use Adobe Premier to edit videos. It is probably the most Professional Video Editing Software, but I have been hearing great things about Davinci Resolve. I'm considering trying them out in the future. Lucky for you Walking Videos won't require too much video editing since they are usually raw and uncut. You may want to cut out the boring parts of your video but that will be your preference.
The Best Camera for Walking tour Videos
The Short Answer: iPhone 14
I have used the GoPro 7 and the GoPro 9 for making walking videos. I have also used the Osmo Pocket and the newer Osmo Pocket 2. I have also used my Insta360 x3 and my Sony a7iii on a Ronin SC Gimbal.
Right away I will tell you that using a full-frame camera such as my Sony a7iii  is overkill for walking videos unless you are walking at night. The GoPro cameras do a great job as long as it is a nice sunny day outside. In lower light conditions I think the Original Osmo Pocket works better than GoPro. The reason why is the Osmo Pocket is a small camera using a gimbal to stabilize the footage. The GoPro uses software to stabilize the footage and it does not do well at night. The Reason Why I choose the Original Osmo Pocket is the footage simply looks better in low light because the camera has fewer but larger pixels in its sensor.
Using a Smartphone such as A iPhone 14 on a gimbal would work best for creating Walking Videos. The camera is better than both the GoPro and the Osmo Pocket. Also in low light, you can turn your flash on while shooting your video giving you an even better image in low light.
Using a 360 Camera for making walking Videos
Using a 360 Camera for making walking videos is actually the best Idea. The reason why is that the only thing you need to do is hold the 360 camera in one direction and walk. With a 360 camera, you are capturing everything. Even things going on that you can not see yourself at the moment you are recording. You can later reframe the video to parts that you want in the video. The only problem with 360 cameras such as the Insta360 x3 is that the quality is not on par with none of the other cameras when shooting in 360. The Resolution says that it is 5.7k but that is the total 360 video. The quality after recording actually looks like 720p or 1080. You won't really notice how bad the quality looks on a phone, but when you try to watch on a 4k tv or on your laptop the footage does not look good at all. At least in my opinion.
The Best 360 Camera for walking tour videos
The Best 360 camera to make virtual reality tour videos or 360 walking videos in 4k is going to be the insta360x3. The camera is very easy to use and the app also makes uploading to your phone and editing quickly. You can also use the app on your computer. If you want to export the files in 4k then you will need to edit and export using the app on your computer.
The 360 photos can be seen on Facebook giving users the ability to view them in 360. The 360 videos can also be uploaded on youtube. These users will be able to view the entire walking video in 360 modes. These cameras are great at giving the ability to give a real virtual tour experience while watching online.
How to make 4k Walking videos with my phone?
Choose the Correct Resolution
First, you will want to change the settings in your phone to shoot in the Highest Resolution. Smartphones now have the capability to record in 8k. I must warn you that your computer may not be able to handle editing an 8k video. It might not even be able to render a 4k video.
The reason you want to record at the highest resolution such as 8k is that it gives you a better-quality image when you downscale it to 4k. You will have a lot more details and you can edit still images from your video a lot easier.
Frame Rate
I recommend choosing 30 or 60 Frames per Second. FPS.
Stabilize Video
Although the newer smartphones have great internal stabilization, you will still want to use a gimbal. This will be how to record a stable video while walking.
How to Discreetly Record Walking Videos
(Disclaimer) You should learn and follow all laws when recording discreetly. Also, it is never cool to secretly record a conversation without them knowing you are recording prior to it. Personally in my opinion it makes you sneaky and creepish.
The reason someone might want to discreetly record walking videos is you could be in a dangerous neighborhood. Some places are just not safe but people would still like to view what it looks like there. Maybe you want to capture footage in its natural environment. A lot of times when I'm out walking around with my camera I get stares from people.
If you want to discreetly record walking videos you can put your GoPro on a chest strap. It's not very discreet but it doesn't cause that much attention. You can also use the Rayban Spy Glasses. There are some problems with these glasses, they don't record 4k. Also, they only record up to 60-second clips. Still, if you are looking for camera spy glasses these may be your best option at the moment.
Record Walking Videos Discreetly with a Camera Necklace
The Insta360 Go 2 is a small and powerful camera that can record 1440p at 50fps. It has a built-in Horizon lock feature and Stabilization that keeps the videos looking smooth at whatever angle you turn the camera. It's waterproof and comes with a magnetic mount, making it possible to mount it almost anywhere. You can clip it to your hat or use the Necklace mount to walk around and record hands-free deeming it perfect for making walking videos.
Recently the Insta360 Go 3 was released which records 2.7k and has many new features that the previous model didn't have. One of the most noticeable upgrades is the detachable design. The Insta360 Go 3 is an excellent camera to make Walking videos. It is one of the smallest high-quality cameras available on the market.
 How to Record Walking Videos at Night
If you are Planning to Record walking Videos at night sure you can use the Osmo Pocket original. It has better lowlight performance than the Osmo Pocket Version 2, but the video will still be awfully dark.
I would never Consider using the Gopro at night unless you have the Gopro Media mod attached with the mod light. That would definitely make the footage look better but it still won't give you the High-Quality Video that you are looking for. It has something to do with the stabilization and low light.
The Best Camera setup for walking videos at Night
The Best Option for Walking videos at night will also be the most complicated. This is if you want the highest quality videos. It consists of you using a Real Mirrorless Camera that is connected to a gimbal that can support it, along with a fast aperture lens that stops down to at least f/1.8. There is no other camera the size of the New Sony ZV-E1 that has the same lowlight performance as a professional Cinema Camera Such as the Sony fx3 and Sony Fx6. From my experience, Sony Makes excellent Cameras. You can also choose to go a more frugal route and use the Sony ZV-10. It has a APS sensor so that means the lens is more affordable, but it won't have the same lowlight performance as the Sony ZV-E1.
The Second best and most logical option would be to use your smartphone such as the Samsung s23 Ultra or the iPhone 14 Pro Max. Attach your phone to a gimbal that has a built-in light such as the Zhiyun Smooth 5S Phone Gimbal
How to Record Walking Videos at Night with Smart Phone
The First step you want to take is to set up your Camera with the correct Settings. I recommend Recording in 4k 30fps. You can also use the 180 rule and manually set your exposure to double your frame rate. So if you are recording at 30fps then you will want your shutter speed to be double that amount, which is 60.  Set your aperture to around f4-5.6. This will make sure that everything is in focus. Set your iso up to no more than 800. Although it may be too high with the next tip I am about to give you.
Depending if you are using a gimbal with a built-in light or not you can consider turning on the flashlight setting on your phone. This will give you enough light to make high-quality walking videos. If your video looks overexposed then turn down the ISO to the lowest setting which should be 100. The reason that you should manually adjust your settings is so you don't get the wrong type of motion blur.
Avoid panning left to right when making walking videos. This will give your viewers a better experience being that you will cut down on motion blur by not panning. It's important to walk in a straight line whenever possible.
How to Record Walking Videos Live
The Best Way to record walking videos live is with a smartphone and a gimbal. You can connect your phone to Youtube and other social media sites such as Instagram and Facebook. Other cameras that allow you to do live-streaming walking videos are the Gopro and the Osmo Pocket 2. The DJI Osmo Pocket does have problems connecting to YouTube through the DJI Mismo App. Also, the app is not available on the Google Play Store any longer which is a concern of mine. I have still been able to complete the task in a different way. You will need a hotspot to connect both the DJI Osmo and the GoPro. I use my smartphone as a hotspot to connect those devices. I have a International Phone Plan for Traveling.
Passport Action is a brand I created for making Travel YouTube videos. Currently, I have 50k Subscribers on YouTube. Some of my most successful YouTube videos have been walking videos. In the beginning, I wanted to create videos without actually being on camera. I have now overcome being camera shy and am moving on from ordinary walking videos which is why I don't mind giving you all my secret recipes lol. If you found this article helpful please let me know in the comment box below. Also, feel free to donate if you found this information Valuable. You can find the donate button in the menu section of this website but I will also add a link here. Donate to Passport Action
4k Walking Videos Examples
The Conclusion
Walking in 4k videos are nice for people to watch while they may be exercising or dreaming about visiting a place. These videos give people an insight into what the experience will be like before they get there. I think the best Camera for Walking in 4k videos is using an iPhone 14 or smartphone such as the Galaxy s23 ultra. You will want to use the Camera on a gimbal unless you are using a Newer GoPro or an Osmo pocket which the device is already made with a gimbal attached.
Do you enjoy watching 4k videos? Is there anything else you would like to know about creating them? Let me know in the comment section below.