Medellin Colombia
Medellin Colombia is a Hot spot for digital Nomads. The cost of living is lower. The Nightlife is amazing and the people are friendly. This city sits in a valley and its known for having amazing year-round spring weather.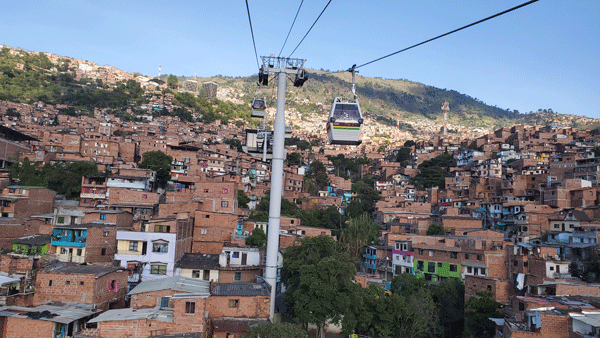 Medellín, Colombia: The City of Eternal Spring
Nestled within the verdant valleys of the Andes Mountains, Medellín, Colombia's second-largest city, is a destination that's blossoming in more ways than one. Known as the "City of Eternal Spring" for its pleasant year-round climate, Medellín has transformed from a city with a troubled past to a vibrant hub of innovation, culture, and urban development.
One of the most notable aspects of Medellín's transformation is its innovative approach to urban planning. The city's Metrocable, a cable car system, has become a symbol of this innovation. It not only provides stunning views of the city but also connects the hillside neighborhoods to the city center, promoting social inclusion and urban integration.
Medellín's commitment to public spaces can be seen in its parks and outdoor areas. Parque Explora, an interactive science museum with South America's largest freshwater aquarium, and the Botanical Garden, home to over 4,500 flowers, are just two examples of the city's dedication to creating engaging and accessible spaces for its residents and visitors.
The city's cultural scene is equally impressive. Medellín hosts numerous festivals throughout the year, the most famous being the Feria de las Flores (Flower Festival), where locals display elaborate flower arrangements in a week-long celebration. The city is also home to several museums, including the Museum of Antioquia, which houses works by Fernando Botero, one of Colombia's most famous artists.
A visit to Medellín wouldn't be complete without exploring its gastronomy. The city offers a variety of delicious local dishes such as bandeja paisa, a hearty platter typically consisting of beans, rice, fried eggs, avocado, and various types of meat.
Despite its rapid modernization, Medellín hasn't lost touch with its roots. The Pueblito Paisa, a replica of a traditional Colombian village, offers a glimpse into the region's rural past. Meanwhile, Comuna 13, once one of the city's most dangerous areas, is now a vibrant neighborhood known for its colorful murals and hip-hop culture, embodying the city's spirit of resilience and transformation.
In conclusion, Medellín is a city that has reinvented itself. Its mix of innovative urban development, rich culture, and warm hospitality make it a compelling destination for any traveler seeking a unique and inspiring experience.