Guatape Colombia
Guatape is a great place to visit. You can take a hike up Penol Rock and see an awesome view of the Lakes. There is also a colorful city to explore. You also have the option to go glamping in Guatape.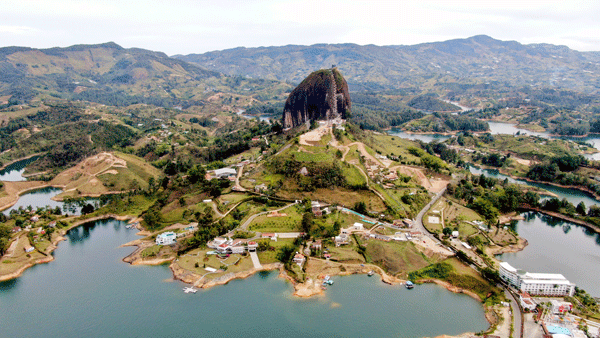 Guatapé: Exploring Colombia's Most Colorful Town
Tucked away in the Antioquia Department of central Colombia, Guatapé is a small town that packs a vibrant punch. Known for its brightly colored houses and the iconic El Peñol rock, this charming pueblo offers a delightful blend of natural beauty and cultural richness. Whether you're a history buff, an adventure enthusiast, or a lover of vibrant cultures, Guatapé promises an unforgettable experience.
A Splash of Color in Every Corner
One of the first things you'll notice as you wander through the streets of Guatapé is the explosion of color. Nearly every building in the town is adorned with vibrant frescoes called "zocalos," depicting everything from historical events and cultural symbols to scenes from everyday life. This tradition, unique to Guatapé, gives the town its nickname: "The Most Colorful Town in Colombia."
The Iconic Rock of Guatapé: El Peñol
Just outside the town lies El Peñol, a massive granite rock rising over 650 feet from the ground. A climb up the 740 steps to the top might leave you breathless, but the panoramic views of the surrounding lakes and islands make it worth every step. It's an adventure that shouldn't be missed on any trip to Guatapé.
Explore the Reservoir by Boat
Guatapé is located on the shores of a man-made reservoir created in the 1970s. The reservoir's intricate network of lakes and islands offers ample opportunities for boating and water sports. You can rent a paddleboard, jet ski, or take a leisurely boat tour around the lake, soaking in the stunning landscapes.
A Taste of Local Cuisine
Like the rest of Colombia, Guatapé boasts a rich culinary scene. Try Bandeja Paisa, a hearty traditional dish consisting of beans, rice, plantains, avocado, minced meat, chorizo, and a fried egg. Don't forget to wash it down with a cup of locally grown Colombian coffee or Aguardiente, the local anise-flavored liqueur.
Easy Access from Medellín
Just about two hours east of Medellín, Guatapé makes for an excellent day trip or weekend getaway from the city. Regular buses run between Medellín and Guatapé, making it easily accessible for travelers.
Conclusion
With its vibrant zocalos, breathtaking landscapes, friendly locals, and delicious cuisine, Guatapé is a destination that captures the heart of every traveler. It's a place where you can immerse yourself in local culture, marvel at natural beauty, and create colorful memories. So if you're planning a trip to Colombia, make sure to include Guatapé in your itinerary. This charming town is waiting to welcome you with open arms and a burst of color!